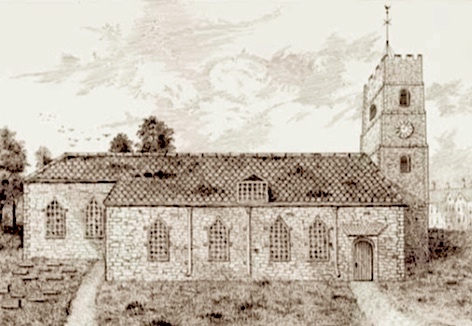 The name Haden has its roots in the West Midlands of England. A survey of names in the 1881 Census for England shows that about two thirds of all those with the surname Haden lived in the West Midlands, the highest concentration being in the county of Worcestershire. It was amongst these people that the Haden family of Wordsley, Birmingham and America (the family as defined in the previous post, and below) originated.
Old Parish Records: marriages and baptisms
Old parish records show an ancestral line for this Haden family reaching back to the late seventeenth century in Dudley, an important Worcestershire town which boasts a medieval castle. The lineage appears to begin with Francis Haden who was baptised at the church of St Thomas, Dudley, in 1666, followed by his son John in 1692. When John (described below as John of Dudley) moved six miles south to near the town of Stourbridge, he married Sarah Brook at the Oldswinford parish church of St Mary's in 1717. These places all lie within Worcestershire.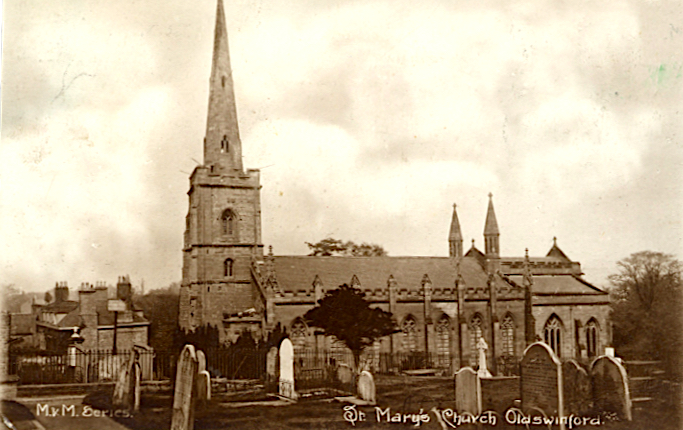 Their children, and a further two generations, were baptised at St Mary's during the eighteenth century, as follows: John of Dudley's son William in 1727; William's son William in 1754; and Richard, son of the second William, in 1798. But Richard rang the changes, first by marrying his wife Frances outside the parish in 1816, as described here, then having most of his children baptised in Kingswinford parish. They settled in Wordsley, a Kingswinford hamlet just on the other side of the Oldswinford parish boundary, perhaps as little as ten minutes walk from the home where he had been raised.
What do the family's shifts in baptism locations through six generations, from Dudley to Oldswinford to Kingswinford, tell us?
Glass and more glass
Until I have viewed the films of actual Old Parish Records, the occupations of the male Hadens before Richard Haden (baptised 1798, died 1843) cannot be verified. But at least in the nineteenth century, glass was a very strong influence in the family. The first proof of that is Richard: at the baptism of his son Thomas in 1818 he stated that he was a glass cutter – that is to say, a decorator of fine crystal glassware – and this remained his occupation throughout his life. Following on from him, all of his seven sons worked in the glass industry locally, after which the thread stretches out over one hundred and fifty years, even as far as America. In the 1960s, two of Richard's great grandsons ran Morgantown Glass in West Virginia. In total, between 1818 and the 1960s, thirteen Hadens in the immediate family worked directly in the glass industry, with more through the marriage of daughters.
Although it is not safe to say how far back glassmaking goes in the family until Old Parish Records have been scrutinised, it is likely that John of Dudley moved down to near Stourbridge at the start of the eighteenth century because he was attracted to the very strong industrial developments in the locality at the time. The economy of Oldswinford was thriving, thanks to the establishment of glassmaking in the district by foreign glassworkers about a hundred years earlier. So there would have been plenty of opportunity for a hardworking young man who wanted to establish himself and raise a family, whether he worked in glass or had a different trade.
The history of the Stourbridge glassmaking district
Back in the early seventeenth century, hundreds of Huguenot (Protestant) refugees who were fleeing persecution in Europe arrived in England with a variety of skills. A group from the Lorraine glassmaking area of north-eastern France discovered that the Oldswinford parish had the perfect combination of raw materials necessary for their craft, and so settled there.
By the eighteenth century, as the Industrial Revolution took shape around them, the area between Stourbridge and Dudley was growing into the identity for which it is still partly famous – as a centre for glassmaking of all kinds, but particularly fine crystal ware. You can learn more of the history of Stourbridge here, and local glassmaking here.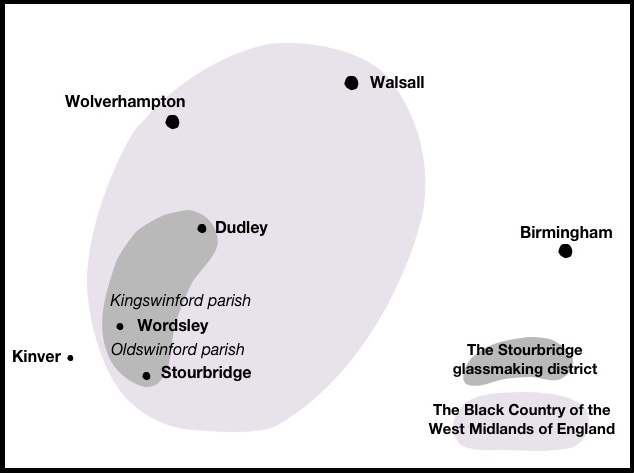 Today it is known as the 'Stourbridge glassmaking district', taking its name from the town where the major glass manufacturers of the area used to gather and conduct their financial business together. The map shows how the district is embedded within the 'Black Country', a general area of heavy industry about fifteen miles to the west of Birmingham. Although very little glassmaking remains today, many of the inventions that were key to British industrialisation and growth were developed in and around this glass district, such as the first working steam engine built in 1712 close to Dudley. And it was in Dudley that steam power was first applied to glass cutting, towards the end of the eighteenth century.
'You see, Tom . . . the world goes on at a smarter pace now than it did when I was a young fellow . . . It's this steam you see.' (Mr Deane in George Eliot's "The Mill on the Floss", a novel set in 1820s England.)
Glass cutting
This application of powerful mechanical means to the decoration of glass benefitted Richard Haden and his family a great deal. Eighteenth century glassware tended to depend for its beauty on the glassblower's skill, shaping or twisting it; surface patterning, if it was applied, was kept light and delicate. But nineteenth century glass radiated decoration. Thanks to the introduction of steam power in the cutting shop, the cutters could make beautiful prismatic patterns deep into lead crystal glass, and they were able to develop themselves as a specialised artisan class. Their sparkling designs wowed the consumers and gave birth to a new cut glass fashion which Richard would have been very familiar with: Regency glass. Further styles followed and for around half a century in Britain, the glass-cutters were so valuable in the industry that the glassblowers, who had always jealously guarded their high artisan status, felt threatened.
A family business, and a dispersal
Fine cut glass was doing so well that one of Richard's sons, William Hamlet Haden (1821-1866), set up a glass-cutting business together with two partners. Parrish, Lowe & Haden was established in 1859 in Wordsley, working from a premises situated on the main road that ran through the glass district.
But time always brings change. By the 1880s the British glass industry in general had peaked and begun its decline; workers started to turn towards other industries, or to think about emigrating. America was fast becoming a giant on the Western industrial stage, attracting young men of all trades and none, including one of William Hamlet's sons and his youngest brother. The former, Richard Haden (1854-1882), was a glass-cutter who began his American life in the famous glass district of Corning, New York, then moving on to Ohio. The latter was Samuel Haden (1840-1918), a glassmaker whose family went on to head a large American glassworks in Morgantown, West Virginia.
But George Joseph Haden (1851-1903), another of William Hamlet's sons, chose a different path. Rather than emigrate or stay in the same industry, George Joseph set his heart on establishing himself as a bicycle-maker in nearby Birmingham. He worked as a glass-cutter in the city in the 1870s until he had the means to make bicycle-making his full-time occupation. By the opening of the twentieth century Haden cycle and motorcycle manufacturing was well underway, only closing in 2002. A full account of George Joseph Haden and the family's Birmingham business is available in my brother's book.
Looking ahead and looking behind
Several individual stories remain to be told. For instance, what happened to William Hamlet Haden's business? Where did Samuel Haden begin in America, and how did his son become the principal of an American glass company? Or when exactly did George Joseph Haden's love of bicycles start, and how did Haden manufacturing fare in the twentieth century? And what of Haden descendants? Then there's still the question of their ancestors – will my examination of films of eighteenth century Old Parish Records reveal that John of Dudley was a glassmaker? I hope you'll check back later to find answers in future posts.
This website honours the lives and work of all our ancestors who made things that were beautiful or useful, whether by craft or manufacture. Who Made That Glass invites you to learn about more of these people here, and to get in touch if you have any questions or similar stories you would like to share.